Blackmill, The Village c.1965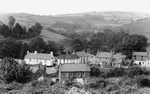 Next photo
Memories of Blackmill, the Village c1965
Though I lved in the Wyndham us kids used to walk via Cwmbwch to Dimdath (is that correct spelling?) and go all the way down to Blackmill Road and pick bluebells for our mams on the way home in the 1950's.
Hi my name is David Waterfield and I lived in the Wyndham from approx 1949 to 1969 and often stopped in Blackmill to catch the red and white or Nand c coach up to the Gilfach to friends and have long been curious about the railway (?) towers that crossed Blackmill valley - though from a recent pic they may have been taken down. Does anyone know of the history of this railway - some of the remains can be seen to the left above the road to Bridgend further down the valley. Thankyou, Dave.
Hi everyone, I wonder how many of you can remember the coal train, with all its trucks full of coal, breaking down on the Gilfach line behind Isfryn prefabs; it was there all night and plenty of people had full coal sheds by morning! talk to you soon Dave Diamond
I lived in Glyn-Llan (Penny McKay) 1 of 6 girls. I loved spending my summer days down the Dimbath, building dams so we could swim and build forts. We would take a picnic and off we'd go all day and our parents never worried about us and they knew we'd return when we were hungry. I also loved picking blackberries and going to the bluebell woods. I went to school in Nantymoel and took the Stanton buses. I also loved going to the dance hall in Pant-y-awel. Since then, my sisters and I have all scattered around the world (Australia, New Zealand, Ireland, New Jersey and Canada) but I still try and go home every year as I still miss the green mountains and the smell of the ocean and still love to take the occasional walk down ...Read full memory
My name is Beth McMillan - Mckay then. Now living in New Zealand. We lived in Glyn-Llan but I spent many a hour walking up and down that road to Blackmill, getting the shopping in the Co-op and little shop/post-office on the corner. Some times I would catch the Gilfach bus back home if I was rich - it was 3d - old money! - as I recall. I also have so many wonderful memories of Blackmill from very early childhood when the steam trains were still running, carrying coal to Bridgend I think, to my teenage years and beyond when we used to hang-out for hours in 'Cams Cafe' as it was then, listening to T.rex, The Sweet, Mud etc on the juke box - making a coffee last an hour! He was brill, and never threw us out :-) I ...Read full memory
I can remember seeing a photograph of the viaduct complete with railway tracks etc.. not sure where I saw it. It might have been in the 'smithy' - can't recall, it will come to me soon. I was put to understand that the railway was pulled up for the war effort, can any one confirm this? I remember Robert Powell whose father was Jack Powell - he was a train driver. My oldest brother Henry was his fireman, anyway Robert supposedly found a roman sword up on the green patch on the mountain. Well, it was like somebody found gold (like in the wild west), we all went up to search (didn't find anything!) God bless, have to go now, talk soon. Dave Diamond
My name is David Diamond. I was born in Blackmill 63 years ago (in a house called Glas yn Ys - Blue Island in english) my fond memories are of going up to the Dimbath pond along with my mates with our father's shovels and spades to dig clodgings to dam up the pond - great stuff. We would be up there all day, our parents never worried about us in those days - kiddies were safe - not so today. I had an evening paper round which used to take about 3 hours to complete as long as I didn't stop on the way to play football on the "black" in Glynllan. More memories soon God bless, regards Dave.
The name is Gareth Davis, and my grandfather (Harry Davis) lived at No 2 Ivor (Ifor) Terrace in Blackmill, although I later lived in Bryncethin I used to travel with the local butcher Clive Heale back to Blackmill to deliver meat to homes there. I now live in Australia, and at the age of 60 last year was fortunate enough to be able to visit Blackmill on a nostalgic visit, to visit my grandmother's grave at Paran Chapel, and have a lovely meal at the 'Smithy' cafe. There is a photo of my grandad Harry Davis in front of the pub on the wall there, and the very kind owner, and a local lady were very kind and organised a copy for me to bring back to Australia. Danny Davis's name who is on the cenotaph is my uncle who was ...Read full memory
Buy this as an Unmounted Print
Sign-in

to save this photo to your Albums.

Collect photos, maps, memories and books of interest to you.