Bridport, The Convent 1903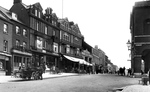 Previous photo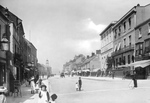 Next photo
Memories of Bridport, the Convent 1903
I joined the convent in 1967 and was the only black later joined by Leslie Philips from the Carribean. I am from Uganda and my dad was studying architecture at the AA. First day at school was horrific. I was punched and called names like any newcomer. By the second term I settled in my best buddies were Martin Pike whose family ran a 600 acre farm. Nicholas Nickleby was a good friend whose dad was in the army in Germany. I enjoyed my time, the country walks the stinging nettles etc The convent instilled in me a sense of right and wrong. All the nuns where kind except for Sister Mary who enjoyed giving us a walloping from time to time. After my 11 plus in '69 I returned to Uganda where I ...Read full memory
I was enrolled was in 1969,we where only 2 Africans in the school.My best friends where Nicholas and Alan.Excursion where a very exciting time and the Mother Superior would put the fear of God in you just by looking at you.During football training i scored such a spectacular that the next day the father choose me for school team.In my 1st debut for the team,i was brought in the 2nd half when we where 1-2 down,i can't forget that day when i just missed an equalizer.I was chosen as an alter boy,the part i didn't like was waking up before everyone else.Lent and Christmas was fun, and you where not to make any noise during tea time including no crunching of biscuits and i disliked milk.I also found piano lessons boring ...Read full memory
hi i went to colfox school i was in class i-t ,i was at burton bradstock school for abit, parents move to yeovil in 1970
I was at the convent 1955 and loved it ,the nuns the wagon wheel's at teatime and even the walks .Gave me great emotional strength for the rest of my life and sister Magdalene was not that bad!! my favourite was sister Ann ,then sister Edith.If anybody remembers a le french boy i walked around with i would be a very happy bunny indeed if you could let me know!!
My brother Christopher and I first went down to school at Visitation Convent, Bridport in September 1957. We lived in Ascot as our father had been an officer in the Royal Horse Guards and had been based at Windsor. We took a train to Reading and then a GWR express running from Paddington to Newton Abbot. Travelling to boarding school on a steam train was a complete Harry Potter experience. I can still recall the smell of the steam and coal smoke, the chug-chug strain of the locomotive as it toiled up steep gradients and the sliding windows beneath the communication cord that opened just enough to let in the outside air as the train tickety-tooed along faster stretches. The occasional tunnels were a delight as ...Read full memory
Several of my younger brothers attended VC Bridport in the mid-1950s to early 1960s, all with mixed memories, before moving on to join me at the Salesian College in Chertsey when reaching 11. Strangely we have no photos of the Convent in our collective and rather extensive collection of school photos. Apart from this one shown on the Francis Frith site, if anyone has other photos of the external and internal of the school and of the Nuns , I would be most grateful if they would share with me (patrick@pontet.com). Look forward to hearing from you. Patrick Pontet
For unruly behaviour, I was delivered to boarding school at the age of 4, after enjoying wonderful times on a Devon farm. I was taken to the Convent by my parents in an Austin 7. I remember crying and staring at the red and yellow floor tiles while Mother Superior Sister Agnes Francis and my future form mistress, Sister Anne, promised punishment if I didn't stop. For high spirits, this turned out to be a long punishment, lasting until 1953. The nuns ruled the boys with discipline that today would result in prosecution and school closure. After Mass, breakfast in winter was a sordid affair starting with a tablespoonful of Cod Liver Oil. If it made you vomit, you were very lucky if you didn't ...Read full memory
My brother and I attended the Convent as boarders from 1958 to 1961 after the death of our mother. We were pretty traumatised on our first day there but were gently looked after by the wonderful Sister Edith. I later remember serving at her funeral. The discipline could be quite harsh at times and I do recall the infants being forced to eat there own vomit at breakfast. Not being allowed to go to the loo when you needed to, especially at night, is a lasting memory.The education was very good and I did well there, having joined with English as my second language. I do remember the room with the strange creatures in jars, it was where we would go for our haircuts. My brother and I enjoyed playing ...Read full memory
I was a boarder at the convent, with my older brother , from September 1927 until Decomber 1929. Contrary to the report given by Alan Noon, (not of my generation) the nuns treated us well and, with reflection over the years, with understanding and kindness. Some names of nuns _Sisters Agnes, Edith and Gertrude. Reverend Mother was a kindly person - not that we had much to with her directly - my abiding memory of her is that she had a mole on her face. Walks, long for children of our age, were a great feature - Bothenhampton Downs , West Bay, Eype and other names which I cannot remember now. We also bought sweets ('gob stoppers,' sticks of liquorice etc) in town on our walks. We also played cricket ! I won 2 ...Read full memory
My father died the year after I was born and his employer Burton's, provided for myself and my three brothers to attend private schools, which is how I came from London to the Convent at the age of 4. I followed my brother Colin who had been boarded there for a number of years. Even today I still have nightmares about the place and the horrible way the nuns treated the children. We were required to remain in our seats even if we needed to go to the toilet. Subsequently many kids soiled themselves or urinated where they sat and were brutally punnished for doing so. At bedtime the nuns checked underwear to look for mistakes that might have been otherwise overlooked. In my 3 years of residence I remember slaps across the ...Read full memory
During the 1940s, I lived in Weymouth, but from May 1942, when I was 5, until July 1947, I was a boarder at the school. I was happy there, and still remember the names of my teachers - Sister Anne, Sister Edith and Sister Magdalene, and also the names of many of the other nuns there then. We had a walk every Tuesday and Saturday afternoon. We walked in twos - with one nun leading the column and another bringing up the rear. Sometimes we just went to West Bay, at other times we would go to Loders (which seemed very far) or Allington, Symondsbury Copse or Eype. Meals were taken in silence(well, maybe not always total silence). We had to attend Mass every morning ...Read full memory
I was born in 1950 and attended the convent as a boarder, leaving in 1958. I travelled by train with my mother from New Street station Birmingham to Paddington station London where the convent nuns met up with us and the other schoolchildren for the journey to Bridport station. We used to have long country walks during the summer and I can remember going to a place covered in long fern vegetation in which we played. The regime at the convent was very strict and the education standard extremely high. French and Latin were taught well before the 11 plus age. I still have a couple of the bills for my upkeep that were sent to my mother. I also have a couple of photo's of myself taken during my time at the ...Read full memory
Buy this as an Unmounted Print
Sign-in

to save this photo to your Albums.

Collect photos, maps, memories and books of interest to you.