Buckhurst Hill, St John's Church 1923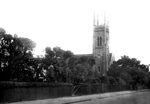 Previous photo
Memories of Buckhurst Hill, St John's Church 1923
I have not had the pleasure to have seen Buckhurst Hill, Essex to date but my grandfather Robert Martin Taylor had a relation who lived there. His son Everard William Taylor was born Scotland 28th August 1885 and died Perth, Western Australia when I was seven, 10th Sept 1963. I will like to hear from anyone who may have known my relatives. My email: margaretgoode@hotmail.com Kind Regards and Hello to all Margaret From OZ.
Memories of Buckhurst Hill
We lived in Chigwell during the 1960s before moving to Hertfordshire in 1969, which seemed like a foreign country then, strange accents etc. How times change! My father, John, was organist at St John's Church, Buckhurst Hill and my younger sister, Sarah, and I used to sing in the choir. We would have been around 8 and 10 ...Read full memory
When I was small about eight I met a little girl who I often saw behind the counter of Gower's Bakery, located at the corner of Church Road and Epping New Road. Her name was Jill Stock. She was related to one of the Gower ladies who ran the shop. Jill was a frail little girl and very shy. In a short time we ...Read full memory
This is a Memory Without Evidence. In 1984 I visited my childhood home, "Ivy Cottage" no 58 Epping New Road, Buckhurst Hill, Essex. The cottage, in poor condition, was still being lived in. The contractors yard was also still being used, along with the workshops. However, the Company became French/ Kier and the ...Read full memory
I was born in Andrews Close in 1969 and wondered if anyone remembered the Lorelei cafe at the top of Queens Road opposite the Pink Clock Boutique which was owned by the daughter of someone famous. My Mum and Dad owned Gingers in the 70's on Princes Road.
Buy this as an Unmounted Print
Sign-in

to save this photo to your Albums.

Collect photos, maps, memories and books of interest to you.