Bushey Heath, Rosary Priory c.1955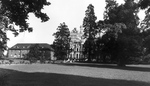 Next photo
Memories of Bushey Heath, Rosary Priory c1955
My name is Hilary Peck (Morris) I attended Rosary Priory from 1970 to 1976, my dear Mum who is 86 & still in good health was a teacher (needlework). Would love to hear from any fellow pupils, school days then were very different to today !!!
Hi does anyone remember the late 1950' at Rosary Priory? My name was then Jennfer Barnett. I can remember going on a trip with the school to Rome. I do still have photos of that. I used to live in Radlett. I was not very good at school!!! (have made up for it since). Hated the discipline, can remember been given a lesson the "facts of life" which was .. we should not sit in the back row of the cinema with boy or wear dresses with no sleeves!!!! Probably was not their best student. But do remember the place fondly and made some good friends there - where are you?????? I now live in Australia, married to a Medical Practitioner, with a successful Fashion Designer as a Daughter and my son is a Pilot - so haven't ended us as badly as I think Mother Superior thought I would!
I started at Rosary Priory in 1953 when I was 8 and left at 18. I was so happy there that our 2 daughters attended the senior school until we moved to Wiltshire. When I first started at RP the only building was the beautiful old original one, but both new blocks were completed by the time I left. A few years ago I visited the convent, which had been totally separated from the school once it became Immanuel College. One of the nuns showed me around their cemetery. I saw many grave stones of nuns I remembered, but Sr. Vianney was the one I remembered most fondly. I used to visit her in the convent, after I was married, and even took our young dughters along a few times. I remember the nuns taking them ...Read full memory
Hi, my name was Elizabeth Yeomans, I was in the same class as Zoe, Bernadette Parkes, Caroline(who was my best friend), Dawn , Kate, Laura and Angela. Would love to hear from anyone who was also there during this time. I was 6 in 1966 when I joined the junior school, and left at the end of year five in the high school, as we moved to Suffolk.
I attended Rosary Priory from September 1960 until July 1967 and was known as Shirley Hayward. I now use my full Christian name and have done for many years which is Shirley-Anne. I loved every minute (except for the Maths lessons - I was hopeless but Geometry was a doddle - strange that!) I didn't want to leave. My class spent the first couple of years in the huts while the new school was being built. I remember an Anne Baker, although not sure if it is the same girl who has left a memory on this site. Other classmates included Ann Rogan, Gillian Green, Susan Thornton, Patricia Flannagan, Christina Smith, Shiela Browne, Marjorie Landers, Angela Hunter, Angela O'Farrell, Sally Hamlin, Deborah Harris and ...Read full memory
I attended Rosary Priory School in 1961 until 1965 (was Ann Hemingway then). We were the first class to move into the new building, we were not allowed to wear shoes and had to wear soft sock like slippers so as not to damage the new wooden floors! Domestic science was in the basement, science lab and art room were in the tower - amazing now when I think back. I remember having to kneel in front of Sister Viennie in our tennis dresses - if they didnt touch the ground (i.e. had to be knee length) you were in trouble!! I also remember the blue PT knickers!! I recognise some of the names on here but does anyone remember Susan Danby and Susan Fox both in my class and my best friends - would love to ...Read full memory
When I was at Rosary Priory my name was Veronica Smith. I would love to hear from anyone who remembers me, such as Penny Grad, Susan, Pat. We are now all getting older and it would be great to hear from anyone. I now live in New Zealand with my husband, and we are now retired from the hospitality business, We have children and grandchildren still in the U.K. and we visit often.
My name is Anne Baker and I started school in 1953 and I left when I was 16 years old. Is the school still open? I enjoyed during art lessons in the tower. The school clothes always looked smart and we wore gloves. I used to live near Bushey Park.
Hi. I was in the same year as Mary Martin/ Empson. My name was Maria Wareham. I remember the girls you mentioned plus Lynne Westcott, Denise Marsh, Maria Pia Montanaro, Bernadette Parkes, Christine Mc Inally(?), Eliza, and a few more. I remember the big show we put on, set on a desert island and the costumes we had to get made from a specifc sewing pattern bought fro the big department store in Watford. My mum has just sent me a photo of our class and I'm sure you are in the back row Mary. Did you have fair hair? Maria
Hi, I used to attend Rosary Priory Junior School and then the Seniors until I left at 16. My single name was Mary Empson and I would like to know how any of the pupils are now that were in my year ie. Lesley Burrell, Heather Russell, Lucy Jennings, Karen Probrate, Janet Francis. If anyone feeels like emailing me I would love to hear how they are.
I attended Rosary Priory in the fifties - I started there in September 1952 and left in December 1958 when we moved to Woking. My name was Jennifer Stirling. I remember the strict nuns and the uniform with the blue & white 'Juliet' caps and the white gloves very well; also the navy blue knickers that we had to wear for P.E. (P.T. it was called then|); and I can confirm that Rosary Priory is still standing! I revisited there late in 2006 together with my friend Sandy who was also at the school, and we even met one of the nuns who taught me back in the Junior School all those years ago. There was a reunion at a nearby hotel back in 2003 where I saw many of the 'girls' from all those years ago ... goodness - how time flies, yet it seems like only yesterday that I was a pupil there!
Buy this as an Unmounted Print
Sign-in

to save this photo to your Albums.

Collect photos, maps, memories and books of interest to you.