Bushey Heath, Rosary Priory c.1955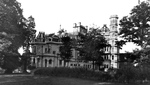 Previous photo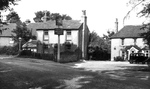 Next photo
Memories of Bushey Heath, Rosary Priory c1955
My brother and I were two of the few boys that attended Roaary Priory from 1966 to 1970. Other boys attending at that time were Martin McDonald, Keith Putnam, Mark Porter, Timothy York, Guido Alzetto and Ramses Tadros, I remember playing soccer in the lower fields and exploring the abandoed farmhouse when the nuns weren't around. There were so few boys in our class, it tool all the boys in our class to field a soccer team. I remember some of the girls as well, such as Gabriel Maieon-Pearsonn, Julia McCarthy and Sara Kennedy. Good times, and a fond rememberance of a more peaceful world.
i attended Rosary Priory from 1959 until 1964. The nuns I fondly remember are Sisters Alphonsus , De Pazzi and Barbara. Mrs Simpson took us for PE when we wore grey culotte shorts for netball and navy knickers for gym. My friends during my time at the school were Susan Rothwell and Amanda Clark
My great aunt Kathleen Elizabeth Bellis, attended Rosary Priory (Caldecote Towers) way back in 1901. I don't suppose anyone else knows someone there at that time, or indeed has any photos? I would love to know.
It was one of the greatest years ever. The area is beautiful and the school grounds are spectacular. I've located many former classmates...mostly everyone except for Jerrilynn Rhoades. Jerri, if you see this please contact me. Many of us are on Facebook.
I was at Rosary Priory 1964-1970, with Sister Teresina, Sr Perpetua, Sr Bernadette, Sr Dupazzi and Sr Alphonsus. Happy days! Friends I remember include: Deirdre Bos, Carolyn Coleman, Lorraine Vacquier, Anne Mills, Diane Cleur. Memories of dancing, at school and on Friday evenings Hemel Hempstead, the coaches, elocution lessons, singing Beatles songs, giggles in the chapel, tennis, the smell of floors polished by young nuns, indoor shoes, Roger Moore collecting his daughter while we all hang out the window gauping, the new science block, the boaters and the stripey blazers. Another world.
I have fond memories of this place. I went there from 1978-1981. I graduated from IUHS in 1979 and spent one year at IUE before going to IU in San Diego. I had the best time here. I boarded for that entire time and with some great friends had some amazing memories. Saw some of my favorite concerts while at this school. I am very sad that it did not survive. I was there for the filming of some great films, such as 'The Meaning of Life' and 'The Wall'. I will be going back to England this December and will make sure to go by and take a look at the old site.
In the late 1970s and early 1980s I attended Rosary Priory High School and looking at this picture reminds me what a magical building it was. I can remember sitting in the classrooms looking out over the grounds waiting for the lunchtime bell to go. I can remember a few run-ins with the nuns for relatively minor offences! which make me laugh now. At the time I didn't! I'd love to go back and visit RP. I wonder if it's still standing. Brings back such happy and fond memories of Hatch End and Pinner Fair. Good times.
My first memories of Rosary Priory date from the 1950s when I was a teenager living in nearby Hatch End and I recall some of the rather nice local girls attending the Catholic School there. However, the decades passed, and in the 1990's I found myself working there! I had by that time graduated as a Careers Officer for Hertfordshire County Council and visited Rosary Priory each week in its new guise as Immanuel College - a Jewish High School. The girls (and boys!) there were very bright and ambitious and I really enjoyed my work with them. Sometimes I would be teaching or interviewing in one of the upstairs rooms - the view from the tower is wonderful on a clear day!
Buy this as an Unmounted Print
Sign-in

to save this photo to your Albums.

Collect photos, maps, memories and books of interest to you.