Cheshunt, Grundy Park c.1955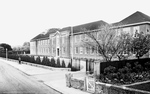 Previous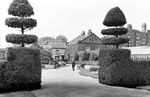 Next
Memories of Cheshunt, Grundy Park c1955
I was born in Barnet but brought up for my first 20 years in Cheshunt. Does anyone remember the St. Mary's Mission which was halfway down Windmill Lane where Roundmoor Drive is now. Long since demolished I would imagine. I was sent there on Sunday afternoons when I was around three years old in about 1948/9. The services were run by Mr. Gowler who preached fire and brimstone to the quavering kids. Miss Lindsell ran the infant section. There was no WC, just a bit of spare land at the back. Certainly not acceptable in this anti-bacterial age, but we survived. I went to Gews Corner School when Mr. Rann was one of the teachers (how scary was he?!) and dear Mr. Oldacre, who knew every child's name, was ...Read full memory
On a visit back to the area after a long time away living in Australia. I was dismayed that what was the old triangle with the Old Pond pub in the middle and then changed to a roundabout with a fountain, the area was still known as the old pond because another pub opposite Ripleys was named The Old Pond. I now see that this has been changed to R J s or something and is up for lease. So now there seems to be nothing to indicate that the area is the old pond, other that a tiny sign at the top of Windmill lane that reads "20 Old Pond" how does anyone know that the area within 150 metres of the fountain is the Old Pond.
Memories of Cheshunt
we had a pet shop at top of cadmore lane also the garage raven coachworks on the corner of delamare rd i was a choir boy at st marys church and went to burliegh school blindmans lane great days in cheshunt cliff richards sister used to live on cadmore lane.i was a mod on my vespa gs and went to imperial hall to see groups aswellas cheshunt boys club .pat raven
When I attended a weekend course called "The Entertainers" at the old Theobalds centre in Cheshunt, I had no idea what was in store. I was supposed to prepare a ten-minute piece to perform that night in front of a large audience. I didn't know! Without warning or rehearsal, I was thrust into the ...Read full memory
I still remember the thrill of walking down the drive from Cheshunt Sec' School on the last day, with the image of it burning on the back of my neck. Refusing to look back I was saying to myself, "I will never have to walk this path again as long as I live". I remember Farriday with yellow fingers, chain smoking. Does anyone have a good memory to share?
Like many young folks of the 1960s who grew up in Cheshunt churchgate area, when the time came to marry you almost always chose St Mary's as the place to have your wedding. It is a lovely old church. I also have happy memories of going to church on Wednesday mornings as I was a student, or pupil as ...Read full memory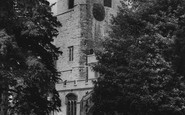 Sign-in

to save this photo to your Albums.

Collect photos, maps, memories and books of interest to you.