Cowplain, The Spotted Cow c.1965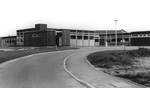 Previous photo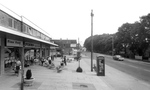 Next photo
Memories of Cowplain, the Spotted Cow c1965
i was born in cotwell ave lived their till i got married dad still lives in the house mum passed away went to padnell juniors then horndean school left school in 1975 love cowplain remeber nothing to do as a teenager there but had loads of friends any one who remebers me get in touch i was angela gray then i do remeber the sweet shop and hoods the shoe shop plus the chippy up the other end mum and dad had the hardwere shop in hazleton way
WE LIVED AT COWPLAIN FROM 1965 -77. MY FATHER BOUGHT A HOUSE WHILE STILL IN THE NAVY ON CHAPLINS ESTATE AT ALBRETIA AVENUE . I WAS SIX YEARS OLD THEN AND MY SISTER WAS THREE ALL SEEMED TO GO WELL UNTILL 1966 WE LEFT FOR ADEN AS DAD WAS BASED IN BARAIN THEN IN 1967 THEY WITHDREW FROM THERE WE RETURNED AND DAD WAS SENT TO CHATHAM IN 1968 WE RETURNED IN 1969 I LOVED THOSE HOUSES I SAW THEM BEING BUILT THEY WERE STEEL FRAMED PROPERTYS AS THE LAND WAS VERY BOGGY AND IT WAS SWAMPY THEN IN 1971 MY FATHER DECIDED TO WRECK MY HOME LIFE BY SENDING ME OFF OVER 70 MILES TO A BOARDING SCHOOL MUCH AGAINST THE REST OF THE FAMILYS WISHES I REMAINED THERE FOR FIVE YEARS AND I WAS EXTREMELY HOMESICK FOR MANY YEARS. I LEFT THE ...Read full memory
! lived in number 64 Padnell Ave in 1950's and remember the Birchells,Verriers, Watts, Cox, Weston Bissetts, Barrells, Coles, Carruthers , Allens family. Love to hear from any of them. Steve Gregory
My family moved to Cowplain in March 1961. I was 10 years old and went to Stakes Hill Junior School. From there I went to Cowplain Seconday School for Girls from 1962 to 1967. On the corner of Sylvester Road was Pine Tree Stores. I also remember Carters sweet shop and the electrical/toy shop on the corner of Durley Avenue. We lived on the brand new estate of bungalows on Sandyfield Crescent and until they built some shops on Milton Road our nearest shops were the main road at Cowplain. I can remember going to the Saturday night dances in the Church Hall held by the Rev. Eastwood. We moved from Cowplain to Horndean where my parents lived until they died. I was in the Girl Guides and we held our meetings at Hart ...Read full memory
My name at the time was John Hancock and I lived in Stakes Hill Road, Waterlooville, Hampshire before Philip Road was built. With fields opposite my home and the Convent Church along the way, it was so idyllic. The horse and cart milkman and the Corona drinks delivery still in my mind. I went to the Waterlooville primary school with the tin huts along the main road and then on to Cowplain secondary School, that seemed a long walk in those days. I earned a few bob as a paper boy for Coxons the News agent in the village, then of course there was the Curzon cinema and the sweet shop (yellow shop) on the corner of Stakes Road. Where I lived was the bomb crater in the fields opposite, with dirty water, yet fish still ...Read full memory
We were the first family to move into the newly built Padnell Avenue Council Estate, moving there in around 1947, our house was one of a pair on the corner of Winscombe Avenue. Where the Council flats are now situated was prefabs and I can name most of the occupants who lived there at that time. I lived there until I married my wife Maureen at St Wilfred's Church, Padnell Road in 1971. I have many fond memories of the entire area and I'm sure people of Cowplain will share my memories of Padnell Recreation Ground, 'The Swamps' - 'The Humps & Bumps' - going to the 'Bob-Bon' at the top of Padnell for sweets - 'Joey's Field' - the 'Lily Pond' the 'Boat Pond' - the 'Tanks' in the Queens Enclosure and then there was the ...Read full memory
We used to meet outside the old tram shed where Waitrose is now, Can anyone remember the company who owned it?
My grandmother lived in Idsworth Road. When I was a small boy we used to drive down from Scotland for summer and Christmas holidays. Seeing the pub sign was a cause of great excitement for a 4 year old because it meant we were nearly there. At that time Idsworth Road was not tarmacced and the surface was very rough. My dad used to sit me on his knees and let me steer the car round the potholes.
I lived as a toddler in Kings Road, Cowplain, between 1958 and 1963, in the days when it was a cul-de-sac. These photographs really bring back memories. If I'm not mistaken, the small building on the right of the Spotted Cow was a doctor's or dentist's surgery - I remember trembling there waiting to get injections as a 5 year old. One shop on the main road I remember was a sweet shop near the corner of Durley Avenue (?) - I believe the owner was a Mr Carter and the shop may have been named after him. One memory of Kings Road was the ice cream van that came around every afternoon. A small cone cost 4d, a large cone was 7d and on special days you could get a 99 cone for 9d. Between 2p and 4p in today's ...Read full memory
I lived in Cowplain until 1963 and have just written a book set in Cowplain in 1958. Although it's an adventure story for young readers it is set accurately in the village at that time and will appeal to older readers who remember the village as it used to be. I would love to share memories of the village since I am writing another book, also set in the village at that time. See 'The Padnell Prowler' at Lulu.com
My great grandfather, Henry Waight bought this pub when he retired from the Royal Navy. He ran it until he died in 1927. Two of his sons, Sid and Frank helped out behind the bar. He also owned three shops opposite. I'd love to see any older photos of it.
Buy this as an Unmounted Print
Sign-in

to save this photo to your Albums.

Collect photos, maps, memories and books of interest to you.