Woolwich, Powis Street 1962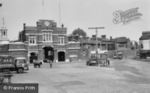 Previous photo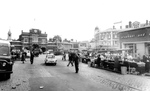 Next photo
Memories of Woolwich, Powis Street 1962
As a 14 year old I was a 'Saturday girl' at Woolworth's in 1961. I was on the glass counter, selling everything from vinegar bottles with plastic tops, ashtrays, jugs etc. The number of items displayed on the sloping counter was enormous and I had to make sure all stock was replaced as soon as it was sold. I remember the wooden floor too. I left Waverley Secondary School on Plumstead Common in 1962 and worked as a Junior in Barclays Bank opposite the firestation in Lakedale Road, I hated it. Then I transferred to the Wellington Street, Woolwich, branch where I was shorthand typist. My superior was a very prim and proper Miss Thorpe, but a lovely lady. A few years later I married my husband in the Registry Office at ...Read full memory
Callis Yard Stables are just behind Powis Street today, they have been unused for many years. The council sold them in 2008 and since then the building has stood unused and ready for redevelopment. I was wondering if anyone had any information about the stables or knew someone who worked there? I am keen to find out more. Any anecdote, big or small, would be welcomed!
I was born in Woolwich in 1948. The things I remember of the shops in Powis St; David Greggs was where my mother would send me for ham off the bone, I also remember Biddles Fruit and Veg which was just off the High St. The R.A.C.S. Department Store where I would have my hair cut in the barbers on the top floor. There was also a Men's and Boys Outfitters in Hare St opposite Burton, can't remember the name. It is where my Mother would buy all my Sunday suits and school uniforms. I think it burned down and never reopened . The fish and chip shop in Parson Road, or was it the Green where the buses stopped outside the Odeon. There was also a very good fish and chips hut on the bridge where I think M& S is now. In 1961 at the age ...Read full memory
I remember very fondly Woolwich market & town centre in the 60's & 70's. Cuffs department store always seemed so imposing with polished wooden floors, we had to go there to get my school uniform for Notre Dame Convent in Eglington Road. Christmas time always meant a visit to the store to see Santa's grotto, and a ride up in the lift which was always manned. My favourite department was the downstairs jewellery dept, (still love a bit of bling now) it had a wood and glass case which revolved round and you pressed a button to stop it at your favourite item. Mum used to treat herself and have her hair done there too. Garretts Store was mainly furniture and there was a lovely toy shop, Branstons, at the top of Powis ...Read full memory
I remember Woolwich town centre in the 1960's when I was a kid. In this picture I believe you can just see Garrets department store on the left which was a big rival to Cuffs department store a bit further back (out of shot). It was Cuffs store that provided my school uniform for Eglinton school. I also remember going to the restaurant upstairs in the RACS, not often as it was a silver service restaurant, a bit posh for us, as we lived in a prefab in Cleanthus Road, Shooters Hill. Is there any one who has similar memories, in particular anyone living in the prefabs Cleanthus Road between 1962 and 1967.
I never got down Powys Street that often but loved to spend ages in 'Woolies' or the F.W. Woolworth Co. shop where they had row upon row of bunks full of all this marvelous stuff !!
Buy this as an Unmounted Print
Sign-in

to save this photo to your Albums.

Collect photos, maps, memories and books of interest to you.