Historic Maps of Abersoch and the local area.

My parents owned the Hotel and I was introduced to it when I returned home from Bangor Hospital. I lived there for many years and can remember Kath's recollections of people 12 deep at the bar and having the job of guarding the windows to stop poeple queue jumping, something I wasn't (...Read full memory)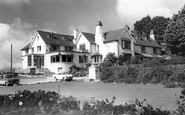 I am Ian Robinson and I worked at Land and Sea and then the Tarantella in 1965 with a guy called Rob Smedley the Tarantella was managed by a Mrs Olwyn Robinson and I think the owner was called Preston though I am not too sure of that. Does anyone know what happened to Rob Smedley I would very much like to know.