Free ePostcards
- Over 35,000 sent by our visitors
Keep in touch with friends and family - send a Frith ePostcard for electronic delivery - absolutely FREE!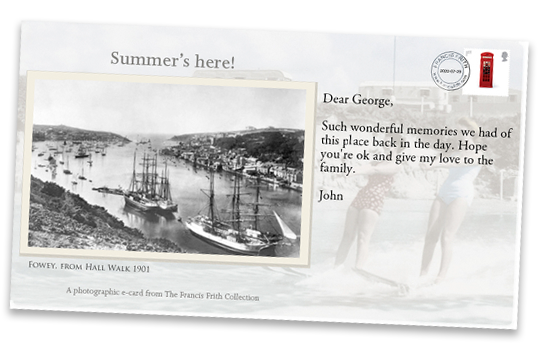 When postcards were first introduced in the early 1900s you could write a postcard and post it with some certainty that it would arrive by post the next day, or possibly even later the same day!
Now, you can email a Frith ePostcard and it will be received within an hour!
Start with any Frith photo and personalise it with a choice of 6 different designs.
To keep in touch:
1. Simply find a Francis Frith photo you would like to send as an ePostcard
2. Choose your card design
3. Type your message and enter the recipient's email address
4. Click 'Send', or schedule the delivery on any day of your choice!
Send as many as you like and all absolutely FREE!
Please note, you need to be a registered user and signed in to send an ePostcard.
Which design will you choose?
Our current ePostcard designs are shown below (click to view a larger preview):
Find A Photo To Send
To begin, find a Francis Frith photo to send as an ePostcard. Think of places they remember fondly, type it in and off you go!
When you find the photo you want, look for the 'Send a Free ePostcard of this photo' link to proceed.
View your ePostcard
If you have an ePostcard token, enter it here to see your ePostcard.