Acock's Green, West Midlands
Historic Maps of Acock's Green and the local area.

I don't have a memory. All I would like to know, is what stood here before? As the boulevard has some older houses and the Fox Hollies pub would have stood opposite, so would this have been waste ground or hedges or something? Just curious you understand. Do love all these old photographs of how things used to be yesteryear! Thank you.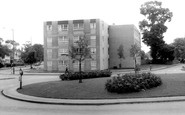 I live in Hertfordshire but once lived in Acocks Green. By chance I have met a local elderly lady called Coral (also a Brummie) who tells me that her late grandfather, William Churchill, lived just off Lincoln Road in Acocks Green, near the Olton border. Due to family break up she lost touch with him as (...Read full memory)