Acock's Green, West Midlands
Historic Maps of Acock's Green and the local area.

I don't have a memory. All I would like to know, is what stood here before? As the boulevard has some older houses and the Fox Hollies pub would have stood opposite, so would this have been waste ground or hedges or something? Just curious you understand. Do love all these old photographs of how things used to be yesteryear! Thank you.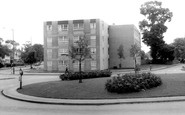 I remember when all shopping was done by visiting independant local shops. The shops I remember going to with my mother on Yardley Road were Alldays butchers, Timms greengrocers, The Bargain Shop, Terry Lovetts Sports, The Iceberg (drinks store), The Chocolate Box, Washland and many more I can picture but cannot remember the names of. This was well before people had heard of supermarkets!