Historic Maps of Acton and the local area.

We moved down to Acton from Stafford in the midlands in 1949 when I was 4 years old. We were given a flat in The Vale, my first school was East Acton infants up East Acton lane, a cracking little school. I was very happy there until they moved me to East Acton House close to Bromyard Avenue. Oh happy days there, (...Read full memory)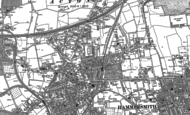 I worked in the Tony Bros Ice Cream factory as a school holiday job in 1967 or 68. I vividly remember Tony Tedeschi, who chain smoked Benson and Hedges, Derek the gentle giant who took me under his wing and the lovely Yolande. It was hard work, but good fun and it's a shame it's all gone now. We definitely made the best choc ices in the area.