Addiscombe, Greater London
Historic Maps of Addiscombe and the local area.

Mother Danced in Crepe de Chine They sat me on an ostrich for the man to cut my hair At Kennard's store in Croydon, I used to love it there. There were parrots doing fancy tricks And model gnomes and elves, Who lived inside the window land In front of half stocked shelves. They had a moving (...Read full memory)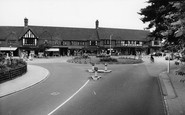 I remember the old club house school. I lived in Coleridge Road and I went to the Ashburton High School, now pulled down, they have a new school there now but the fire station is still there, also the corner shop oposite the fire station is still there, it used to be the post office and inside the shop he had rows of jars of sweets. I came to Australia in 1962 so we are talking over 50 years now.