Historic Maps of Alfreton and the local area.

Between 1959 - 1977 I lived on King Street. My mother fondly described our house as the one behind the iron railings. We sold plants and tomatoes from the good sized garden which backed onto Painters farm. One side was the Undertakers/woodyard and the other The Railway Public House. Opposite was Taylors Corn Store and above (...Read full memory)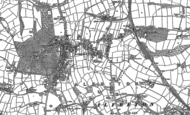 I hope someone can help me please, as I believe my gg grandfather was the publican at the Royal Oak on King Street around the 1870's or thereabouts. Any information would be brilliant, as I'm sure someone has records/ history about King Street. It would be wonderful to fill in gaps. His name was George Ling and his wife was Isabella. Many thanks.