We have no old photos of Allt yr Yn available currently. You might like browse old photos of these nearby places.
Historic Maps of Allt yr Yn and the local area.

I lived in Blean-y-pant Crescent and we would walk along the canal tow path to reach the lido. I remember that there was a farm house at the bridge where we'd turn left up the hill. My father and I watched the only fire ball I've ever seen, bounce across the fields and hit the shed of the farmhouse one stormy day. The Lido was (...Read full memory)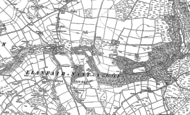 My wife Jenny (nee Beswick) can remember when there used to be a lido at Allt-Yr-Yn House in the 1950s. Does anyone have any photos of the lido or the old Allt-Yr-Yn House in the 1950s, or know when the house was built and who lived there? There is a nature reserve there now and no sign of the house.