Historic Maps of Andover and the local area.

This picture brings back childhood memories of the 1940s. Behind the wall on the left was a Quaker burial ground, a small grassy area on which one was free to stand upon.Opposite the wall were thatched cottages which were destroyed by fire later in the same decade I believe. A friend of both me and my sister was living in one of the cottages at the time.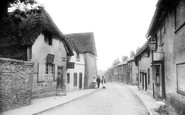 I think this must be the original building of the King's Head at 22 London Street. The sign to the right says "R.G. Cable Carpenter". Ralph G Cable was a carpenter and wheelwright at 20 London Street in the 1901 census. Charles Herbert was then victualler at the King's Head. The sign on the pub advertises Nutley's Old Chantry Ales. William Nutley was a brewer in Chantry Street.