Appleton-le-Street, Yorkshire
Historic Maps of Appleton-le-Street and the local area.

My great great grandfather Francis Robson was born here about 1847 to James Robson and Mary, who was a Hodgeson before marriage. I think he had a sister called Patience and brother called Johnathan. Francis walked all the way to Bridlington to find work,where he married and had a large family. I (...Read full memory)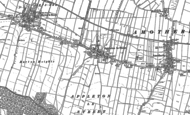 I often stayed in Appleton at my grandparents, Cissie and Bill Hollingsworth. Cissie was the cook at the Hall and Bill was the gardener. I used to get the bus from Norton where we lived. I went to whist drives with my grandma in neighbouring villages. I often wonder where the Ledgard sons are now. I think there were two sons. Grandma died in 1957 and granddad emigrated to New Zealand soon after.