Historic Maps of Ardleigh Green and the local area.

I went to Ardleigh Green School for 7 years and knew most of the shops. Starting in Squirrels Heath Lane there was Langs (Newsagents), Smys (wool), chemists, Greens Stores, a butchers, shoe repairers, the Fish Shop (lovely chips), greengrocers, Sunshines sweets (lovely 3d ice lollies) delamares grocers, a café (...Read full memory)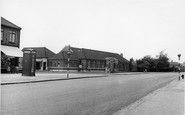 My Dad owned the sweet shop in Ardleigh Green, (it's just out of shot on the left of this picture) initially we lived above the shop, later we lived towards the A127 further up Ardleigh green Road. I went to Ardleigh Green School and have so many happy memories of growing up in the area. Climbing trees, football until it was nearly dark, and riding my bike up and down the parade.