Aylesbury Memories
Read and share memories of Aylesbury
Pub was the Rockwood, not Rockwell. I worked at Pearks Stores, 56, Kingsbury, from 1958 to 1964. My first manager was Cllr. Eric Bentley, an 8th Army veteran. He moved down to the West Country and opened a hotel. Kingsbury was then the Bus station with buses going to such places as Windsor, Northampton, Bedford etc.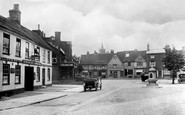 I was born in Buckingham Road in 1962 and lived in the same house (no.225) until I left for North Wales in 1985. I have many happy memories of living there, going to the Primary and Junior schools in Dunsham Lane and playing in the Alfred Rose Park, especially playing the Pitch and Putt golf (...Read full memory)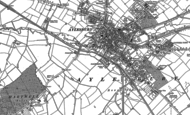 My husband, Roger Watts, and his family lived in Castle St in the 1950's. The picture has a figure standing outside their front door (no.15) which could be his mother or older sister Linda. Can anybody shed some light on this ? The street was always free of cars with only the doctor, who lived a few doors away, (...Read full memory)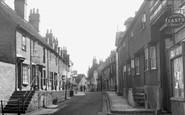 Born in 1961, growing up with my grandparents on Prebendal Ave, great memories. Little shops by the old brook, catching tadpoles, Ceely Rd school also Oak Green - seems like a mystery now. I lived in Aylesbury until I was 16, my grandparents had died. I cannot not find any photos of my past - did I even exist? My (...Read full memory)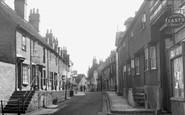 I am looking to find someone who remembers the years 1941-1945 during WW2, in particular the family who lived at No.32, Whitehall Street/linked to Ripon Street. The families names were; Alice & Will Barnes, they had 3 children, Fred, Bert and Ina. Owing to the War my family were evacuated to Aylesbury from 1941 (...Read full memory)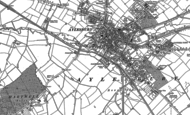 The WWI tank was removed because little boys used to enter and use it as a toilet. It exploded when the welder went to work on it because there was still petrol in the fuel tank, not ammunition. The welder flew across Kingsbury and landed, dead, in front of Ivatt's shoe shop (the signs are still up on the wall). The Rockwell has (...Read full memory)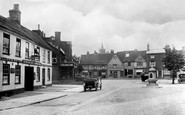 my name is Winifred Haynes. I lived in Ashtead.at i3 albert road. from 1939 until about 1959.my dad was an old Ashtead man walter Haynes. many man y happy memories. DAD WORKED AS A painter and also at the memorial hall for many years. as a caretaker. I went to school in Epsom at the convent ; many happy day with my friends and (...Read full memory)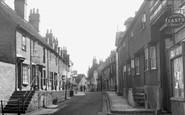 I am researching my family history, and try to find relatives, my Aunt Lydia married Reginald Elliott in Kent during the 1930s, they had 5 children?? Reg, John, Fred, Rose, Yvonne, My Aunts death in 1972 was reg in Aylesbury, this is a very long shot, but maybe someone knows about the Family. Brian.