Ayr Memories
Read and share memories of Ayr
On tv at last, school bus, with a clippie, snowed in, couldn't get from Drongan to Cumnock Academy, should have been a good day off, but had to walk through loads of snow from Coalhall to Drongan, no thermals in those days! Old village of Drongan, initially miners row, expanded to one small council estate, then incomers, (...Read full memory)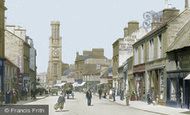 My great great gran used to own pawn shops which my mother said was on the four corners Wallace Street, George Street, Princes Street, maybe King Street. I would love to know if anyone remembers them and what her name was. Also in the early 30's there was a young boy killed and found behind a jump at Ayr racecourse - any memories - the boy came from Lochside.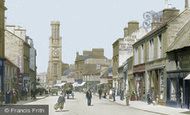 hi can anyone help me im looking for the craig family. my gran's maiden name was craig jean--joan craig. she had a sister called lizzy-georgina and a brother called patrick-albert. lizzy's daughter jeannett lived in annbank in the sixtys i think she had 2 children her husband's name was davy. my gran married alaxander ramage from glasgow. hope someone can help me please thank you. :)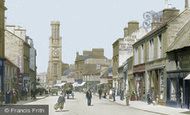 Can anyone help? I am looking for a photo of the above place where my Granny and the family lived in 1911, their address was 13 Craigmiller Building, Lymonds Wynd Ayr. I always thought this address was King Street, Ayr could be that King Street is where Spion Kop was?
Having fish & chips from the Vesta Cafe on the New Road, they were the best. Playing the puggy at Favali's in the New Road. Playing down at the Newton Shore.  Skating at Ayr Ice Rink. Climbing the fence and getting into the dog track from Elmbank Street on Sunday morning to pick up anything of value the drunks had dropped the (...Read full memory)
In the 1960s, I remember watching Dalmilling Primary being built from my Ganny's window, my first day there when I was about eight and meeting all the new pals, school sports that I was useless at, egg and spoon was torture and getting into trouble for holding it down with my thumb, skinned knees from doing the sack (...Read full memory)
I remember in the 1950s a 'rag store' in Wallace Street. It was on the opposite side from the rent office of that time. I don't remember the name of the owner though. There was also a pet shop near the corner with River Street. We called it the 'big' pet shop. That was the one with the black monkey called 'Snowy'. They had a (...Read full memory)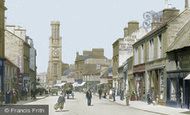 I recall my pals and I going to Ayr harbour and picking up the herring and mackerel, which dropped off the baskets when the boats were unloaded, and selling them round the nieghbours' houses. Herring were 1 old penny and mackerel 2 old pennies. Today (2008) a herring costs £1 each! 240 times dearer. We would make dens up Craigie (...Read full memory)
I remember as a wee girl going with my brother Donald to buy sixpence worth of stale buns. I don't remember the bakers but it was behind Boots the Chemist. It was always a treat if your mum had a spare sixpence and told you to go and purchase some buns. The temptation was always too much and the buns were (...Read full memory)