Ayr Memories
Read and share memories of Ayr
Does anyone remember the rag and bone men that used to come round the scheme looking for old rags etc? I was so desperate to own a red balloon, nothing was to stand in my way, but where would I get enough good quality rags from? Being a wee lassie and not really understanding,that you shouldn't take (...Read full memory)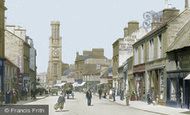 I recall my pals and I going to Ayr harbour and picking up the herring and mackerel, which dropped off the baskets when the boats were unloaded, and selling them round the nieghbours' houses. Herring were 1 old penny and mackerel 2 old pennies. Today (2008) a herring costs £1 each! 240 times dearer. We would make dens up Craigie (...Read full memory)
I remember Bobby Rab and his roan & white Clydesdale horse that pulled the big cart with Bobby Rab sitting on it. They worked for Murray Forrest the coal merchant in Beresford terrace and delivered coal. They could be seen in Burns Statue Square with the horse drinking out of the fountain situated opposite the Ayrshire & (...Read full memory)
In the 1960s, I remember watching Dalmilling Primary being built from my Ganny's window, my first day there when I was about eight and meeting all the new pals, school sports that I was useless at, egg and spoon was torture and getting into trouble for holding it down with my thumb, skinned knees from doing the sack (...Read full memory)
My great great gran used to own pawn shops which my mother said was on the four corners Wallace Street, George Street, Princes Street, maybe King Street. I would love to know if anyone remembers them and what her name was. Also in the early 30's there was a young boy killed and found behind a jump at Ayr racecourse - any memories - the boy came from Lochside.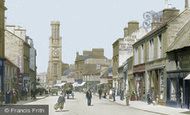 Having fish & chips from the Vesta Cafe on the New Road, they were the best. Playing the puggy at Favali's in the New Road. Playing down at the Newton Shore.  Skating at Ayr Ice Rink. Climbing the fence and getting into the dog track from Elmbank Street on Sunday morning to pick up anything of value the drunks had dropped the (...Read full memory)
I remember when I was at Newton Academy School there was a wee tuck shop across the road called Wee Andys. It was the front room of their house and they sold sweets and Iron Bru drinks. The size of the drinks depended on how much money you had. A penny drink was served in a Shippans paste jar and you could buy up to a threepenny drink ...happy days.
Can anyone help? I am looking for a photo of the above place where my Granny and the family lived in 1911, their address was 13 Craigmiller Building, Lymonds Wynd Ayr. I always thought this address was King Street, Ayr could be that King Street is where Spion Kop was?
I remember going to visit a Mrs Kelly with my granny and they used to sit and tell ghost stories. When we walked home we had to walk over Turners Bridge which was only dimly lit and I was told to watch out for 'Cut Throat Dan. I must have walked backwards all the way to Newtongreen in case he crept up behind us - scary days.
I lived in Ayr from 1966 to 1968, married a Scot in 1969 and then moved to Glasgow. I have fond memories of a kind Ayr landlady, visits to the cinema, strolls around the lovely little town and catching the bus to Kilmarnock for my first (temp) job with the Kilmarnock Electric Co. where my 'Canadian' spelling got me into (...Read full memory)