Ballaghennie, Isle of Man
We have no old photos of Ballaghennie available currently. You might like browse old photos of these nearby places.
Historic Maps of Ballaghennie and the local area.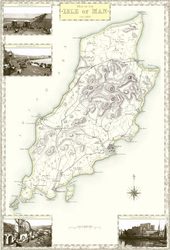 Ballagh cottage, part of the Haire family Armagh Manor estate, was a Dowager House - where Florence (Florries) Haire resided after the death of her more elderly in years husband, Major Haire. During my childhood years, Ballagh Cottage, a listed building dating back to 1832, was one of a number of houses from our estate that was rented out to local families.