Historic Maps of Barking and the local area.

My name is Brian Newman and I was born in Barking in 1942. My old man was a grocer and his shop was Newman Stores in Ripple Road by the Harrow, or as we called it, the "arrer". There was a long row of shops either side of Ripple Road. I could name every one, but it will take too long. I will just mention Artheys the bakers, Bill (...Read full memory)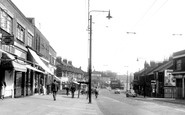 My Nan, was Mrs Ring, we used to stay with her in her house in Hearts Lane opposite the Asbestos Co , next to the Thames Plywood Co (where I worked a few years later). Nan's house was one of two on stilts right beside the railway (steam) of course. Many great times spent, Barking was a great place then.