Historic Maps of Barnoldswick and the local area.

I was 10 years old, and had lived at 62, Esp Lane, but now live at 5 Sackville Street. I loved life, school, elderly neighbours, friends that lived on Colne Road, Cavendish Street, and Sackville Street. I remember Kathleen Earnshaw, Howard Dixon and I used to go for walks up Folly Lane, (...Read full memory)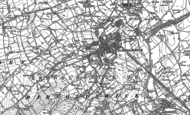 Anyone interested in West Craven, including Barnoldswick, should do a Google search for the term oneguyfrombarlick. You will soon find the largest local history website in the UK which contains masses of information about the area and its history. The site is free, non-profit making and is a locally owned and run facility dedicated totally to exploring the history of the area.