Historic Maps of Barnoldswick and the local area.

My first memory of Barnoldswick was coming off a laycocks bus on station road outside the conservative club, it was a lovely july morning, wakes week as it was called then. my reason for the visit was to see my sister Margaret Honeyman, who had moved here a year or two previousley With me on this visit was my (...Read full memory)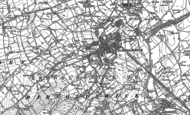 Anyone interested in West Craven, including Barnoldswick, should do a Google search for the term oneguyfrombarlick. You will soon find the largest local history website in the UK which contains masses of information about the area and its history. The site is free, non-profit making and is a locally owned and run facility dedicated totally to exploring the history of the area.