Barnt Green, Hereford & Worcester
Historic Maps of Barnt Green and the local area.

I have very fond memories of Barnt Green. My sister went to Woodruff School between 1937 and 1942 and I was there between 1945 and 1948; my short stay was due to the Principle, Miss Jackson, deciding that she no longer wanted any boys beyond the age of 8, I think this was due to her age. I also remember an excellent teacher (...Read full memory)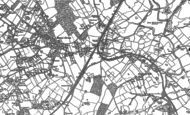 I lived in Barnt Green from 1941 to 1961. I attended a tiny school held in the headmistress's back garden - a long shed like building! It was an excellent school, and I left there to attend Bromsgrove High School. Does anyone out there remember a little girl called Tyers? Or a head mistress - Miss Woodruffe and her assistant Miss Matthews?