Historic Maps of Binbrook and the local area.

I remember attending Binbrook infant school age 5 walking from binbrook RAF camp with my brother who was in the junior school part then ,my teacher was Mrs Gordon her husband was headmaster Mr Gordon my name is Roy Randall I wonder if there's any old photos of my class from those days ,some happy days there and some not so .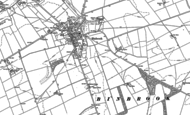 I attended Binbrook Church of England Primary School from 1952 to 1959. In this time I was in Mrs Lamming's class first, moving to Mrs Wilky, Mrs Foster's (nee Miss Walton), Mrs Sharpe's, Mr Holgarth and not forgetting the really scary head master Mr Alfred Gordon. Most memorable things were the May Queen coronation and playing foot ball among the cow pats on the school field.