Historic Maps of Binstead and the local area.

In 1970-72 I worked for a man in Sydney, Australia who told me that his Great-Grand-Mother came from the Isle of Wight, and that is all that he knew of his 'roots'. In 2015 I said that I would try and find some more information about his ancestors. I spent many months delving into the past, and visiting the island. (...Read full memory)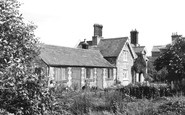 I love Binstead, met my first wife there Carole, who lived in Beatrice Close. We walked all around the village but the best walk was from the Church of the Holy Cross up to Ladies Walk, a truly beautiful place which I still enjoy at my age of 66yrs. In recent years parts of Binstead have been ruined by over development, too many houses and increase in traffic, but I still love it.