Historic Maps of Bishop Auckland and the local area.

Approx 2 years working at SS LIngfords in Newgate Street. The old fashioned type of shop where you were served. We roasted our own coffee beans every Monday morning. Cooked our own "boiled" ham every week. Part of my job was to bone the hams prior to cooking in our own large boiler.We bought whole sides of (...Read full memory)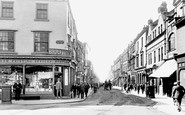 My grandfather Thomas Edwin Mantle had a grocery and creamery in Newgate Street. He died before I was born but strangely my father Herbert Clayton eventually had his own store in Newgate Street, it was called H Clayton esquire, family grocer. I was two years old when we moved to Redcar in Yorshire. So I have no memories of my birthplace.