Historic Maps of Bodenham and the local area.

My parents had the shop/ post office from 68-70 and I went to Odstock school. The best years of my life without doubt. Great people in Bodenham, Nunton and Odstock. The Millers lived next to the school. They had 7 kids. Julie was a bit older than me, Glen was my age and Gary (sadly died some years ago) was a year younger. Don't (...Read full memory)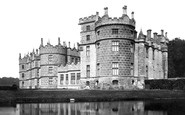 I used to live at Bodenham for about nine years and went to Odstock School. I played on my bike or on roller skates all around the village lanes. It was a lovely time, no worries or cares, just an innocent childhood.