Brackley, Northamptonshire
Historic Maps of Brackley and the local area.

I wonder if any can help me? I am attempting to trace my mother-in-laws family history. I am trying to locate a John Horwood possibly born in Thorpe Manderveil around 1868, from his wedding certificate he married Ellen Francis Wootton on August 3rd 1896 at St. Peters church, Brackley. John Horwood's occupation is shown as (...Read full memory)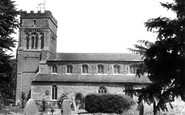 In 1962 - 1964 I lived upstairs above Mr. Green's shop. I believe the number was 12 Market Square. I was a USAF Airman stationed at RAF Upper Heyford. Good memories. Mr. Green invited me to go with him to the British F-1 Grand Prix at Aintree as he knew I loved motor racing and spent many Sundays at Silverstone.