Historic Maps of Bracknell and the local area.

We moved to Easthampstead in 1962 and moved away in 1968. Bracknell town did have the Crossways but I do remember the rest of the town which was still beautiful and old. When we returned in 1969 I was horrified as an 11 year old to see just how the old town had been torn down. I went to Fox Hills infant and (...Read full memory)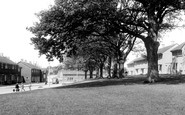 I remember Great Hollands around 1973. I used to go to Bracknell via Virginia Water. A friend of mine from the sixties moved there. His name was GRAHAM TROTTER he married a girl called SHIRLEY from Townholme Crescent Hanwell. We used to go to Bordeston school Hanwell. If any one knows him please tell him about this post.