Historic Maps of Bracknell and the local area.

The Old manor had a legend that highwayman Dick Turpin made an escape by taking the cellar tunnel under Church Road to the Hind's Head (the white building). At Sandy Lane Infants School, my friend Andrew Balfour lived in the Old Manor. He showed me the secret tunnel. Its reputation was more (...Read full memory)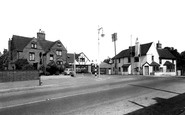 I remember Great Hollands around 1973. I used to go to Bracknell via Virginia Water. A friend of mine from the sixties moved there. His name was GRAHAM TROTTER he married a girl called SHIRLEY from Townholme Crescent Hanwell. We used to go to Bordeston school Hanwell. If any one knows him please tell him about this post.