Historic Maps of Brampton and the local area.

The building you can see behind the tree left of photo was the main guardroom. At the back was the offices of the RAF Police and the RAF Regt. Opposite their office entrance was a grassed area where we had a wonderful standing aircraft - a jet Provost. One day whilst sitting in the RAF Police office, (...Read full memory)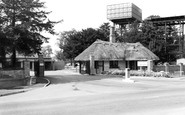 Does anyone remember the 'Valet' shop that used to be near the High Street entrance to the Village Park? It was sort of a haberdashers but the lady also used to take in dry cleaning and shoe mending. It was a portakabin type building and there was one lady who used to run it. I wish we'd taken a photo.  We moved to Brampton around 1965 and I remember it being around for a while after that.