Historic Maps of Brighton and the local area.

Actually, my memories of Brighton go back earlier than 1953 because I was born there in 1933. I do have a memory of being wheeled in my pram over a small area of ridged concrete outside the little shop at the end of our street, Bennett road, Kemp town. We were bombed out from there (number 35) in 1943 and I do (...Read full memory)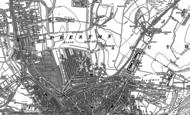 The Aquarium was the venue for the 'Chinese Jazz Club' which was run by a man in a straw hat called 'Bonnie'. I was a regular as a student and despite the name all I recall was R&B music from a range of bands and singers including Muddy Waters, Blind Lemon Jefferson (I think) , Long John Baldry and Rod Stewart - then known as Rod the Mod.