Historic Maps of Broadstairs and the local area.

Further to memories of Fairfield; when I was 7 I came to Fairfield House and stayed for 3 and a half years. Like many residents I had breathing problems and was sent there for the sea air. I have lots of good memories of the school and Broadstairs itself, the only names I remember are my friend Irene (...Read full memory)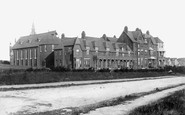 I can just about remember my time at the school, it was run by nuns, Sister Sheila rings a bell. I was there with my two brothers, Thomas Keefe and Pandy Keefe. I remember geting the cane for kissing a girl and sneaking down to the bread bins late at night. If anyone can remember us please get in touch.