Historic Maps of Brynmawr and the local area.

I'd love to hear anyone's memories of the Deakin fairground family based at Alma Street at Brynmawr. I am currently researching for a forthcoming book on the history of the family. Any information/memories/stories/photos would be appreciated. Even more so, the EXACT date when Margaret Deakin (Deakin-Studt) passed away. We (...Read full memory)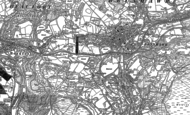 I was born in Brynmawr and lived there until I got married. I can rember Deakin fair very well, it always was outside the Buffs club on Station Road which lead to Brynmawr railway station. The fair was very busy ever week it come to Brynmawr, Tuesday night was busy, all the young people would go to the dance in Churchhouse, then down to the fair to finish off the night.