Bude Memories
Read and share memories of Bude
I was born in Flexbury Park Nursing Home, Bude in Nov 1942. My parents lived at the time in Breakwater Road. Does anyone know where this nursing home was ? It appears that when my father returned on leave from the RAF they asked St Michael and All Angels to Baptize me on a Wednesday.When this request was denied my mother informed the (...Read full memory)
To all it may interest...I have discovered among the effects of my late father, Roger B Vincent, of White Lodge, Hingham, Norwich, Norfolk, a letter dated March 8, 1947, from the manager of the Grenville Hotel, Bude, Mr R Williamson, replying to an inquiry from my father about reserving a room for his (...Read full memory)
I remember reading about The Welsh Collier Llandaff in about 1898 trying for the safe haven of Summerleaze Beach being wrecked on the reef at the back of The Breakwater a year ago she was saved from a similar fate at in another location but the reef rocks are very sharp here which possibly was the result of Her not being able to be saved.
I remember the primary school and the little banks behind it which seemed huge to us then! We used to go mussel picking on the rocks and walk along the downs with buttercups and daisies, sadly now much reduced due to soil erosion. The cottages were old and tumble-down the further out you got. There was an old cobbler (...Read full memory)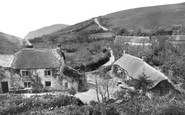 At the age of 13 we lived in Lloyds Bank, my mum and dad where the caretakers there. Bude Strand was our play area in 1955, many a new pair of shoes was practised walking to and fro on that pavement. My dad also worked for the County Council and repaved it in later years, no one way system then, cars travelled both ways. Fond Memories.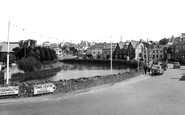 My paternal ancestors (Box) owned the iron foundry down by the Bude canal in Marhamchurch until the coming of the railway in the mid 1800s. Many are buried in the churchyard. My maternal grandparents (Nichols) lived in Marhamchurch in the late 1900s and their daughter Phyllis married a farmer (Charles Routley) who farmed at (...Read full memory)