Historic Maps of Burgess Hill and the local area.

I worked in the ticket office at the railway station from about 1959 until about 1962. The taxi drivers would come in for tea and W.H.Smiths was attached to the building. I was one of the first to move in to the block of flats just outside and was known as Keymer Court. Much later in life I was one of the (...Read full memory)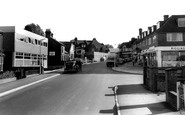 Photo shows public convenience that was demolished. And cricket match being played. Spent many happy times in 60's and early 70's here with friends from school and later as shortcut to Park Centre. Miss Fisher, the little disco bungalow out back that was all blacked out. Luminous walls and handstamps with loud music and dancing. ( and snogging !! Lol).