Browse our selection of old black and white photographs of Burgess Hill, along with a selection of historic maps, local history books, and fascinating memories that our visitors have contributed. All our photos and maps are available to buy in a wide range of product formats, including framed prints, canvas prints, tea towels, mugs, jigsaws, tableware, cushion covers and as one photo in a customised calendar. Most of our local history books can have a personalised inscription added for FREE to the title page.
Historic Maps of Burgess Hill and the local area.

Anyone familiar with Burgess Hill (I lived there from 1956 until 2012) will know that this photo is incorrectly titled. London Road is some way off to the south - turn left at distant St John's church spire. We are of course looking from Station Hill (which is the bridge over the railway line) down towards the (...Read full memory)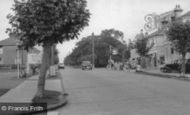 Want to share names etc; memories of pupils at London Rd County Primary School from 1961-1965 ??