Historic Maps of Burgh St Peter and the local area.

My great grandfather, Jeremiah Kittle, was born in Burgh in about 1828. From about the 1760s his famliy rented grazing marsh in Somerleyton,just across the River Waveney, and probibly rowed across to check their livestock. By 1860 Jeremiah was a blacksmith/wheelwright in Somerleyton and later rented Manor Farm in (...Read full memory)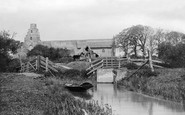 The photo shows a rowing boat which probably belonged to my great grandfather "Busky Tripp" who ferried people across the river at the nearby staithe. He also rowed to Lowestoft fish market and back nearly every day with a load of vegetables from his market garden. He would bring back fish to sell in the village. His daughter Marnie Tripp was organist in the church for many years.