Caddington, Central Bedfordshire
Historic Maps of Caddington and the local area.

I remember as a lad, when Elm Avennue was split in two,where the bungalows start there was a solid bar across the road,and the same in the Crescent. You could only get the bus at the Green, the 360, it was sixpence to Luton, and the bus went across the Green And on the corner of Chaul End Road was a school.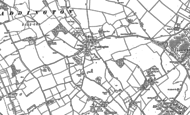 I remember the Co-op butchers at Caddington shown in the picture. Ted Reed was the manager and his son Michael used to work part time there cleaning up. I also recall Courtline Coaches having the contract for school bus transport and then when London Transport closed down Courtline took over the local bus (...Read full memory)