Historic Maps of Calne and the local area.

I worked for Jo & George Thomas (George & the Dragon) at the White Hart in Calne in the 70s. I often had to run up and down between 3 bars to work them all, and sometimes helped in the hotel by cleaning. Jo would say there's only 4 or 6 sheets today Sheila so not worth putting the washing machine on (...Read full memory)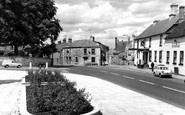 I also remember Greenacres School.My mother was the nurse there,May Wright.We lived opposite the school and during the sixties the girls occasionally babysat for my sister and I.I remember once they found my mothers wedding dress,tried it on and broke the zip!My mum and dad are still in that house and I have very fond memories of Greenacres and the adjoining farm.