Camberwell, Greater London
Historic Maps of Camberwell and the local area.

I was born in 1950 St Giles Hospital and my family lived on Farmer's Road, Camberwell. I moved away many years ago and sadly from what I have researched the road no longer exists, or at least part of it. We lived at number 137 and from what I could see it had been demolished. Our family name was Kench.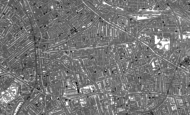 My Mother was born in Graces Road in Aug 1893 in her parents house with her eight Bros/Sisters untill she married my father in 1918 on leave from France, in 1920 they moved to Green Lane Thornton Heath. I was Born in 1930, on special occasions we would go by Bus to her parents Graces Road via Brixton while changing buses she (...Read full memory)