Historic Maps of Carnforth and the local area.

I remember Market Street, with its shops,cenotaph and the County Hotel on the left hand side of this junction (out of sight!). I lived on Preston Street from 1951 to approx 1966 and went to Carnforth North Road school. My surname was Newcome then. We used to go to the County Hotel for our school (...Read full memory)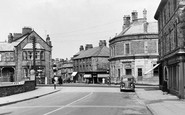 Angela, the selling out shop was a must when we got our pocket money. And our Christmas parties at the County were just brill. The school was too small for all the pupils and the senior classes were in the Congregational Church school rooms in Hawk Street. We seemed to be always walking back and forth to the school or to the drill hall for P.E.