Historic Maps of Chagford and the local area.

The school where my mother taught was evacuated to Holystreet Manor from Surrey in 1939, and I recently found her and her colleagues staying there in the 1939 census. Fascinating to find the school listed and know it was also a school in the 1950's. Apparently the dormitory where the teachers slept was haunted...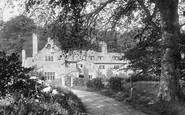 I have an album that belonged to a member of my family in years gone by. In this album, my ancestor's friends have made drawings, sketches, ditties and paintings. There is a beautiful painting entitled "Chagford", which appears to be Holy Street Mill, painted by Edwin Jackson, 1911. If anybody would like a copy of this painting, then please contact me with your email address.