Cleeve Hill, Gloucestershire
Historic Maps of Cleeve Hill and the local area.

My father was born at 2 Hailes Cottages in 1931. My family live in and around Toddington, Didbrook and Winchcombe. My father was born Leslie Frederick Vallender and adopted by his mother's sister Olive Richings who married Edward Cook (head bellringer at Didbrook Church). My grandfather Edward Cook was a (...Read full memory)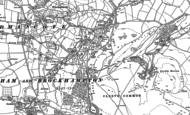 Members of my family were owners of the tea rooms at Cleeve Hill and had connections with the golf club there too. We may have some family connections. I have been to visit the area for family history research but could not find the tea rooms / house. I think it was opposite the Cleeve Hill Hotel. Do you have any more info about the tea rooms that might help?