Historic Maps of Cleveleys and the local area.

My grandparents took me to Cleveleys,every year for 2 weeks.,from the ag of 2 till I was 16years old.,We stayed at Mrs Faulkners boarding house on Rough Lea Rd.,I loved going to watchthe Follies,.and going to the Queens Theatre.,.,My grandma loved the Olympia Slot Machines.,When I revisited Cleveleys last year how it's changed.,but it's still dear to me as my childhood memories.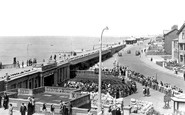 I was born in a house in Daisy Bank in 1945,Cartmell was my maiden name and I attended Beach Rd school,does anyone remember the name or school or any special memories of the late 50s.Mine was seeing rock around the clock at the flea pit as we called it.Mr gribble was the manager and he kept us under control with his hook hand.