Historic Maps of Clowne and the local area.

Read and share your memories of Clowne itself or of a particular photo of Clowne.
My name is Keith Webster and I was born and brought up in Clowne. I was born on King Street before moving to Rose Avenue, then to Hickinwood Crescent, where we lived next door to Bill and Jean Ashley and their family. I was great friends with Bill Ashley, and together we would work for the Sibberings, who owned Harlesthorpe Dam, (...Read full memory)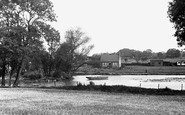 My mum used to work at the Meridian sewing factory, her maiden name was Valerie Dickens, which then became Valerie Smith. I think mum left there to have me and I was born in 1978. If anyone has memories of the Meridian or knows my mum please get in touch. I'm sure she would love to read about memories of this, thankyou, Miss Lyndsey Smith.