Historic Maps of Cookham Dean and the local area.

I was born in 1965 at Cliveden and lived in Grubwood Lane near the entrance to Quarry Woods with my parents for 16 years. I remember walking to Cookham Dean Primary School where the headmaster Mr Turner made my life a misery! I remember scrumping apples in the orchards opposite my house but had to watch out for the (...Read full memory)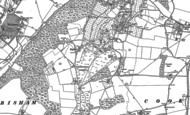 When I worked for Samuel Jones the boys in our office played cricket against a team in Cookham Dean and we girls went along as support. What a great place this is!  I remember a lovely village in lovely countryside - must be a nice place to live.  I didn't realise at that time the connection with Wind in the Willows but that just about sums it up.  I hope its stayed much the same.