Historic Maps of Cromer and the local area.

My family and I stayed in the Elmhurst Hotel, Cromer for two weeks during August 1958. My brother and I made several coach excursions from Cromer - to Yarmouth, Lowestoft, Sandringham, King's Lynn and Ely. I went alone to Sheringham by train - the trains were still running then! - and found a most interesting book - (...Read full memory)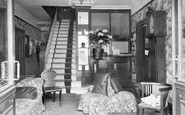 At the top right hand corner of this picture was the coastguard lookout where my father was stationed. As kids we were only allowed to swim on our own if we stayed on the beach below the lookout. I loved going to visit him "on watch" and look out of the huge tripod binoculars. I had to stand on a box to reach them.