Historic Maps of Dagenham and the local area.

In about 1964 I belonged to Marley Motorcycle Club which l think was based at Marley school in Dagenham. The club used an old barn at Stubbers in Ockendon to "hang out". We had a basic kitchen, a few old sofas and parked the motorbikes right outside. We had some great times, barbeques and rides out to be track marshalls (...Read full memory)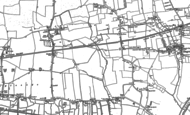 In the 1960's I worked for Telephone Cables Limited or TCL as it was known, laying underground cables all over the UK. As one of the drivers I regularly had to go to the works to pick gear up. If my memory serves me right this view is taken looking back up Chequers Lane towards the Ford Works and that is TCL on the left with Dagenite batteries just beyond anf then an ungated railway crossing.