5-map Box Sets covering the cities of London, Liverpool and Edinburgh. Boxed set of five maps covering Edinburgh, Liverpool and London. Each comprises four 1:50,000 maps of the selected city and its surrounding area from four periods from 1805 to 1946, along with a more detailed 1:10,000 map of the city centre in the 19th century. Makes an excellent gift and offers a great saving over buying each sheet seperately. There are 3 5 Map Boxed Sets.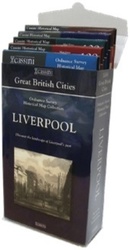 About our 5-Map Boxed Sets
Each map in the Box Set has been carefully scanned, digitally re-projected and enlarged to match the present-day Ordnance Survey Landranger® series. The maps are also directly comparable with the corresponding Ordnance Survey Landranger® and use the same sheet number and grid references, so enabling the past and the present to be compared with ease and accuracy.
Features:
Five large-format maps revealing the city's development over more than a century.
High-quality reproductions of Ordnance Survey's One-Inch Maps enlarged to 1:50,000.
Details street maps of the city centres at 1:10,000.
5-Map Boxed Sets

Shopping with us