Frith Coasters
Christmas Delivery
The last order date for tableware is 11th December. Order soon before it's too late!
Sold in sets of 4 Coasters, each featuring a favourite Frith photo of your choice
Our high quality melamine Coasters are made especially for you! Choose a Frith photo and we will print & laminate it into a traditional 3.2mm thick quality melamine coaster. Sold in boxed sets of 4 Coasters, each featuring a Frith photo of your choice - all 4 can be different photos or the same. With the town name & year printed in the bottom right corner these will last for years and be great conversation pieces with friends and family, or just simply lovely reminders of the places that have featured in your own life.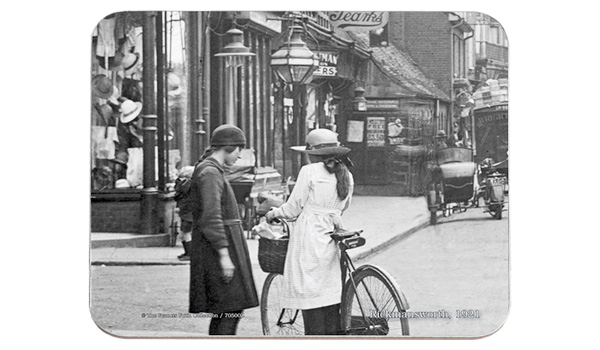 Above are sample photographs only.
Please note that Coasters feature the town name and year of the photograph along the bottom.
How to begin...
To create your Coaster, browse our Archive to find the photo or map you would like, then select Tableware from the list of available options.
Have you seen our Table Mats?
Our generously sized Table Mats add a finishing touch to your dining table and creating a talking point that's as unique as you are.
See Table Mats
About our Coasters
Photo colour:
Printed Black & White or Colour if you select a coloured image.
Orientation:
Available only for our landscape-oriented photos (those that are wider than they are tall).
Availability:
Hand made in the UK to your order
Despatch:
Up to 3 weeks. (Express delivery is unavailable).
Returns:
Our Tableware items are printed to your specific order and are non-refundable, unless faulty.
Finish:
Durable, long lasting melamine.
Backing:
Cork
Care instructions:
Wipe clean only. Max temp 140° C (280° F).
Coaster Thickness:
3.2 mm
Coaster size:
115 x 90 mm (approx 4.5" x 3.5")
Table Mat Thickness:
5 mm
Table Mat size:
292 x 216 mm (approx 11.5" x 8.5")
You might also like:
Take a look at our other nostalgic photo gifts and keepsakes.